The Business ControllerTM Plus
( For Windows & Dos )
For businesses that need more power and flexibility!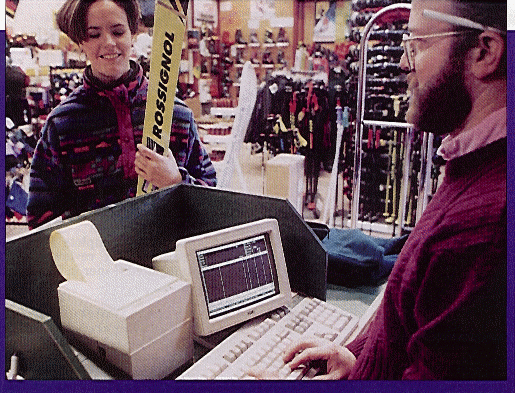 It's Pei-feet For Your Business

The MicroBiz software turns any PC into a super smart inanaaement system that will increase your profits. it will improve your overall operations, especially in inventory control and check out. MicroBiz lets you ring sales, print fully itemized receipts or invoices, receive and track inventory, track who your customers are and print sales reports, including reorder reports.

Easy to Learn and Operate

The MicroBiz software was designed for the first time computer user. Pull-down menus and pointand-select windows make the program easy to use. For a transaction, the operator scans the bar code label or keys in the transaction and, with a few keystrokes, can produce a fully itemized receipt. As each transaction is completed, the products sold are automatically deducted from the inventory.

Imagine Knowing. . . .

What is in your inventory right now? Which products are slow movers? What your sales are for the day, the month, the year? Who are your customers and what do they like to purchase? All this information and much more is collected by MicroBiz.

Speedy Point-of-sale

This Point-of sale software provides a complete set of cash register type functions. To ring up items simply scan them with a bar code reader. Items pop up on the screen instantly! Services, Kits and Serialized items MicroBiz handles the sale of Services, Kits (with unlimited sub-components), and even tracks Serialized merchandise.

Customer information . . .

That is tracked includes address, city, state, zip, phone, fax, email address, taxable, discount, tax rate, sbip-to address, price level and more, plus we include 16 fields that you can tailor to your own business. These include character, date and numeric fields.

It's The Only Solution For Apparel Merchandisers . . . .

The MicroBiz software has an "apparel matrix that gives you the ability to track all your sizes, colors or styles for each item in inventory. You will know which items are your best sellers. This information will aid in reordering and for proulotions.

Quick Credit Card Authorization . . .

The MicroBiz software's credit card option acts as your personal authorization company. You will have direct access to your bank to get quick and easy credit card authorization, checking account funds guarantee and ATM[bank card withdrawals. At the end of the day You will have a printed report of all of these transactions and it will even transfer deposit proceeds electronically. This means the money you charge to your customer's credit cards is immediately transferred into your business bank account. Eliminate those tedious credit card slips forever!

Bar Code Printing

The MicroBiz's bar code printing enables you to print an array of labels: Hangtags for clothing, side by side labels and butterfly labels often used for jewelry. Every bar code contains detailed information on the product. Bar codes make sellineasy. One quick scan of the printed bar code displays the item description, size, color or style and price.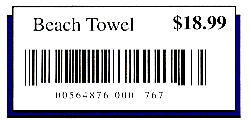 Providing Services or Special Orders is Easy . . . .

Whether you're providina a service or making a special order, MicroBiz gives you the ability to track this with an Invoice-In-Progress. The ability to take a deposit on the Invoice-In-Progress (11P) will increase your revenue. This feature also allows you to susl2end a transaction, while completing another.

Add-on Sales are Quick and Easy . . . .

If you are looking for better ways to get your clerks to increase their sales dollars, MicroBiz's item scripts gives your clerk valuable information for add-on sales. These item scripts can be customized by you to give your clerks reconiniendations on products that go great with the item being, purchased.

Buying Decisions Won't Be Tough Anymore . . . .

Making those tough buying decisions is easier with MicroBiz. Your system will track multiple vendors for each product and you will have the ability to select the low cost vendor for that product. Create purchase orders separated by vendor automatically from your reorder report. Then fax the purchase order to the vendor automatically.

Zip Code tracking of sales

You've seen it done in all the major stores. You've seen it done in all the major stores. Their software runs in the tens of thousands of dollars. Ours doesn't cost quite that much, but delivers more ban- for the buck!

Sales Source Tracking

Have you ever wanted to find out just how effective your advertising really is? Would you like to know which newspaper ad brings in more business? This software can track it for you. As you ring each sale - the system can automatically June 1, 1997-June 30, 1997

Pennysaver Ad $6,902.00

Gannett $71,023.82

Cable TV $14,987.99

Word of mouth $87,344.11

Direct mail piece A $12,984.00

Direct mail piece B $34,987.00

Direct mail piece C $18,998.12

Coupon Mailer $54,020.12

prompt the operator for the source of the sale. Whenever you like you can run a report that shows how much revenue you'vereceived from each "source".

Backorders*

If your clients sometimes order merchandise that you do not have in stock - this feature will "back order" it. That means it is kept in a file with the customers name. When merchandise comes in, you can quickly and easily fill those orders! This means more profits!

Coupon tracking

Do you run coupons in newspapers or magazines ? This software will keep track of which ones come back. Then you can see which ones really work for you.

Rental option

Do you have items that you sometimes rent out'? Like tools and equipment, video tapes, carpet cleaners, lawn spreaders, lighting equipment, stage materialsM The Business Controller Plus will keep track of all of those items. You can run a report that shows which items are overdue and even determine who rented the item last. (A great benefit if you are trying to figure out who returned the damaged piece of equipment.)

Employee Time Clock

A built in feature keeps track of employee comings and goings. Commission reports track employee productivity and effectiveness.

See how easy it is...

Take a look at out- Invoicing screen shown below. To sell an item, all YOU have to do is scan it. If you don't have a bar code reader you can type in the iteni number or you can press F3 to pop up a box and search by the description, the Item number or the Vendor #. Just press <enter> to load it.

Searching for custorriers is just as easy. You can bring up a customer by number - something that is ideal if YOU have memberships (like in a health Club or a frequent buyer plan - you can just scan his inerribership card too) or you can look Lip a customer by Last name, Company name or Phone number.

To complete an invoice takes just seconds. In fact, you can even complete an invoice without touching the computer. It doesn't get easier than that!!! Should you need to edit a price (F6) , delete an itern from the middle of an invoice (F5), or completely void in invoice IF4) - all you do is press a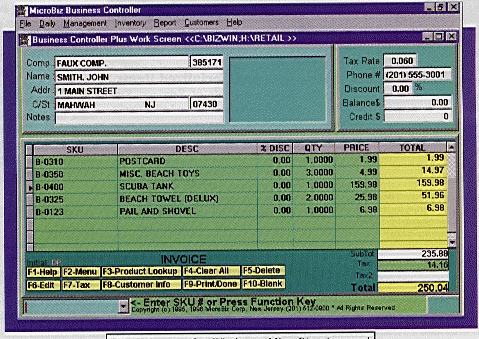 function key. The explanation is always right there. (All of those options can be password protected, in case you only want a nianager to do it. Not only that - but the "End of Day" report will tell you all about Voids - we keep track of them so you can see who Edited a price and who Voided a sale.) Average training time for- a new operator is about 10 minutes. The #1 rated Point-of Sale Software In a major national competition the MicroBiz Business Controller was selected "Easiest to Use, Install and Configure" (Computer Reseller News) -and we beat a field of competitors including Armor Systems, Dac Easy, Infocorp and Synchronics. The testing was conducted by an independent laboratory.

Furthermore, in another software review - which included General Store (Chrichlow Data), Keystroke (Specialized Business Solutions) and Sellwise (Cap Automation) - MicroBiz was declared

"the most complete POS solution of any software reviewed. " And "...the undisputed leader in POS. " (CPA Software News )

Custom Report Writer

Both of these software products include a "report writer" that allows you to design your own reports and mailing labels. The possibilities are unlimited.

Sales History

The software stores a history of every sale made and keeps it forever. You can review it at any time.

Services, Kits and Serialized Items

MicroBiz can handle the sale of items that are in Kits (,an example might be a package item that has 5, 10 or even 50 sub-components that that you would like to keep track of.) or Services - like a "Service Visit" - which could be billed by the hour .. or Serialized Items - such a major appliances like refrigerators or very expensive items that you want to keep track o by serial number (which can be scanned in!)

Sales Tax

The software supports a number of different sales taxes, and can both taxable and non-taxable items It even does Tax by Area for those parts of the country that require such reports.

Sales reports (Windows version shown)

What are you selling? Where are your profits? Does every itern in inventory make you the same amount of money? If your business is like most, the 80/20 rule applies. 80% of your profits come from 20% of the items. Find Out Which 20% is the most profitable, and which 20% is actually losing money for you.

Employee reports

Which of your employees made the most gross profit for the business? Is it the same one who had the highest sales figures??? Maybe not. All employees are human beings and some produce more than others. Not all employees should be paid equally. Certainly your top performers expect higher rewards for their contribution. But, calculating commission reports by hand can make a grown man cry!

With a computer system, commission reports come out automatically.

Mailing labels (Windows version shown)

Customer- retention is an important part of your business. Regular mailings to customers assures your success. The software supports mailing labels in 11 Variety of formats. You can choose customers to mail based on zip code, recency of purchase, highest purchases and even customers who have been in-active for a period of time. It is a known fact that it is six times more costly to i4et a new customer than to keel2 an old one. Why not do some mailings to past customers? (see page 13 for a discussion on doing customer newsletters. See the back cover for information on a dynamic new product Targetsmart that shows you who and where your top buyers are and how to market to them.)

Inventory reports

All kinds of inventory reports can be produced and they can be fil. tered by department, vendor and more. You can even print out inventory counting lists. See how easy it is with the menu shown above.

Accounts receivable*

If you extend terms to your clients, you'll want the features we've built in. You can assimi a credit limit to each customer (and password protect it to prevent anyone else from changing the limit). Each month you can automatically run statements and include finance charges. Account statements can be run on a laser printer on blank paper -or you can use preprinted forms on a laser or dot matrix printer. We've even included options such as the ability to suppress statements for clients with a balance below a certain amount - such as $ 10 or less.

Multi-language*

This feature allows you to change the words on the screen and the reports to suit your needs. Some of our clients convert some screens to a Ian,guage more suitable for their clientele. Or - Put certain reports in another Ianpiage to fax back to your home office in Europe, Scandinavia or anywhere else. OR - change the language in the prograin to better suit your business. If you don't want the word "Company" coming up on the screen - just change it to "Pet" as for a pet shop.

The menu (DOS version shown) in Spanish. The DOS version can be put into almost any language. We support multi-currency too.

Graphically view the sales history of an item when creating a Purchase Order

When you are trying to figure out how much of an item to order - wouldn't it be nice to see just how many you actually sold in the last few months. Shown is a 12 month sales history of a particular item. The impact that this can have on the accuracy of your reordering is just staggerin-g. Controlling your inventory better can completely pay for the cost of a computer system. Our software helps you make better decisions.

DOS or Windows - what do you need? The software shown on (lie previous pages represents both DOS and Windows versions. Whether You I-Lill in DOS or Windows is a question that You Will decide. No matter which version you purchase from us, we will ship you both! (They come oil the same CD.) If vou order a multi-user version, you can run the Business Controller Plus"" for Dos on some machines and the BizWin TM version on others - all on the same network.

There are some minor differences between the two versions. For a complete listing of the feature differences, please call us or visit our web site. (www.microbiz.com)

Multi-currency*

MicroBiz software also supports multiple currencies (no limit on how many). You can take in Yen and give change in dollars. It is completely automatic. This has made MicroBiz the preferred software in many towns and cities along the Canadian boarder, from Buffalo to Vancouver. MicroBiz of course supports the special GST and PST taxes that exist in Canada.

Order with confidence

MicroBiz products include a 30 day "no questions asked" money back waranty. If you are not happy for any reason, you may return the product to us for a refund. (Please note that this applies only to items purchased directly from MicroBiz.)

MicroBiz only wants happy customers. We know that we have great software. While our software has worked well for thousands of businesses, we don claim that we are perfect for every business. You will make the decision.

We do suggest that you order a demo-pack from us for $39.95. The demo pack contains a demonstration version of our software, a full manual, a video tape and a lot of other documentation. This may be returned within 30 days for a refund or the amount can be credited towards your purchase of the software within 1 year!

Easy Business
Single User Version $995.00
2-4 User Version $1995.00
Business Controller Plus TM
Single User Version $1595.00
2-4 User Version $2595.00
$295 per each additional user
Demo Kit CD ROM
Contains:
CDROM installation guide
Business Controller Plus Manual
How To Make Money With Your
Business Computer
Report Booklet
MicroBiz Video
Information Packet
Biz Bear